[Back to the Chapter Browser]
1.9.5 Vagina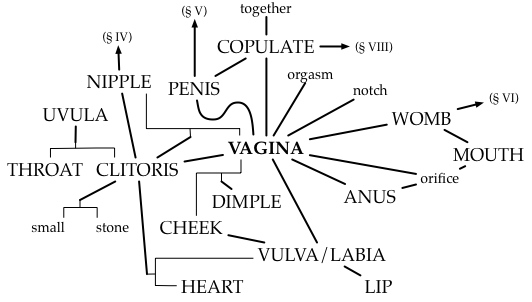 Etyma for VAGINA and PENIS show frequent interchange and/or phonological similarity, by a phenomenon felicitously dubbed "genital flipflop" by Benedict. The roots where this interchange is most evident include: #661 PTB *s‑tu VAGINA / VULVA : #3420 PTB *k‑tu‑k PENIS; #1616 PTB *li‑n VAGINA : #1284 PTB *m‑ley ⪤ *m‑li PENIS; #1352 PTB *s/m‑ti CLITORIS / VAGINA : #641 PTB *ti‑k PENIS; #1353 NEIA *mo VAGINA : #547 PTB *maːk PENIS / MALE / SON-IN-LAW. This relationship is indicated by a yin-yang curve in the semantic diagram.
Roots for VAGINA also show interchange with etyma for MOUTH. See especially #1356 PTB *dzyuk ⪤ *tsyuk VULVA; #686 PTB *si(ŋ/k) MOUTH / LIP; and #667 PTB *tsyin VAGINA / CLITORIS / MOUTH / LIP.
There is also an association between VAGINA and ANUS (see, e.g. #3432 PTB *huŋ HOLE and #665 PTB *kwar HOLE / ORIFICE / INNARDS).
An association between CLITORIS and UVULA is shown by Mizo daŋ‑mɔn 'uvula', literally "palate-clitoris". See VSTB, p. 67.
We are not including roots for FEMALE/WOMAN in this chapter, since they seem quite independent of etyma for the "female organs". (Apparent exceptions are a few forms from rGyalrong, e.g. NW rGyalrong tə◦stə 'female' < #661 PTB *s‑tu VAGINA / VULVA; but these may be misglossed.) On the other hand, words for MALE do frequently interchange with words for the male genitals; some of these etyma are accordingly discussed in Chapter 1.9.7 below.
Etyma in this chapter
| tag | num_recs | chaptertitle | chapter | sequence | protoform | protogloss | grpid | plg | grpno | notes | num_notes | num_comparanda | status | public | username |
| --- | --- | --- | --- | --- | --- | --- | --- | --- | --- | --- | --- | --- | --- | --- | --- |
| 661 | 138 | Vagina | 1.9.5 | 76.0 | s-tu | VAGINA / VULVA | 2 | PTB | 0.1 | | 2 | 1 | KEEP | 1 | stedt |
| 3589 | 0 | Vagina | 1.9.5 | 77.0 | dzyuk ⪤ tsyuk | VULVA / VAGINA / MOUTH / LIP | 2 | PTB | 0.1 | PAF cf. HPTB p. 66 | 0 | 0 | KEEP | 1 | stedt |
| 1356 | 21 | Vagina | 1.9.5 | 77.1 | dzyuk ⪤ tsyuk | VULVA | 2 | PTB | 0.1 | | 2 | 0 | KEEP | 1 | stedt |
| 478 | 10 | Vagina | 1.9.5 | 77.2 | tsyuk | MOUTH / LIP | 2 | PTB | 0.1 | | 1 | 0 | KEEP | 1 | stedt |
| 1349 | 18 | Vagina | 1.9.5 | 78.0 | si(ŋ/k) | VAGINA | 2 | PTB | 0.1 | cf. 686 MOUTH/LIP | 1 | 0 | KEEP | 1 | stedt |
| 686 | 44 | Vagina | 1.9.5 | 79.0 | si(ŋ/k) | MOUTH / LIP | 2 | PTB | 0.1 | cf. 1349 VAGINA | 1 | 0 | KEEP | 1 | stedt |
| 667 | 19 | Vagina | 1.9.5 | 80.0 | tsyin | VAGINA / CLITORIS / MOUTH / LIP | 2 | PTB | 0.1 | cf. WOMB/PLACENTA | 1 | 0 | KEEP | 1 | stedt |
| 662 | 65 | Vagina | 1.9.5 | 81.0 | b(y)at | VAGINA | 2 | PTB | 0.1 | cf. HPTB p. 375 | 2 | 1 | KEEP | 1 | stedt |
| 664 | 15 | Vagina | 1.9.5 | 82.0 | (h/k)ay | VAGINA | 2 | PTB | 0.1 | | 1 | 0 | KEEP | 1 | stedt |
| 1354 | 14 | Vagina | 1.9.5 | 83.0 | tsya | VAGINA / COPULATE | 2 | PTB | 0.1 | | 1 | 0 | KEEP | 1 | stedt |
| 1616 | 38 | Vagina | 1.9.5 | 84.0 | li-n | VAGINA | 2 | PTB | 0.1 | related to PENIS roots? | 1 | 0 | KEEP | 1 | stedt |
| 668 | 9 | Vagina | 1.9.5 | 85.0 | pu | VAGINA | 2 | PTB | 0.1 | ("Him") | 1 | 0 | KEEP | 1 | stedt |
| 1353 | 10 | Vagina | 1.9.5 | 86.0 | mo | VAGINA | 3 | NEIA | 1 | ("NAG") | 1 | 0 | KEEP | 1 | stedt |
| 3430 | 9 | Vagina | 1.9.5 | 87.0 | tsyum | VAGINA / COPULATE | 2 | PTB | 0.1 | ("HIM") only in Bantawa, Tamang | 1 | 0 | KEEP | 1 | stedt |
| 3429 | 4 | Vagina | 1.9.5 | 88.0 | wyan | VAGINA | 2 | PTB | 0.1 | Mikir; Bai | 1 | 0 | KEEP | 1 | stedt |
| 3431 | 5 | Vagina | 1.9.5 | 89.0 | syaŋ | VAGINA / CLITORIS | 2 | PTB | 0.1 | in Bantawa, Ugong | 1 | 0 | KEEP | 1 | stedt |
| 1626 | 5 | Vagina | 1.9.5 | 90.0 | tsaŋ | CLITORIS | 2 | PTB | 0.1 | | 1 | 0 | KEEP | 1 | stedt |
| 1352 | 19 | Vagina | 1.9.5 | 91.0 | s/m-ti | CLITORIS / VAGINA | 2 | PTB | 0.1 | 667? | 2 | 0 | KEEP | 1 | stedt |
| 3432 | 9 | Vagina | 1.9.5 | 92.0 | huŋ | HOLE | 2 | PTB | 0.1 | in Limbu, Bisu, Shixing; cf. 820 | 3 | 0 | KEEP | 1 | stedt |
| 3428 | 2 | Vagina | 1.9.5 | 95.0 | rik | PUBIC HAIR | 29 | PKir | 2.3 | ("Him") only in Limbu, Hayu | 1 | 0 | KEEP | 1 | stedt |