[Back to the Chapter Browser]
1.4.2 Neck
Note the semantic connection between NECK and WAIST; the latter is the neck of the body. This is analogous to the extension of words for 'neck' to other thin flexible areas of the body, as in Korean son-mok 'wrist' ('hand neck') and pal-mok 'ankle' ('foot neck'). There is thus probably a relationship between WT sked‑pa ~ rked‑pa 'waist; middle' and ske ~ skye ~ skya 'neck, throat'. (Make sure the neck/waist connection is indicated in the semantic flowcharts!!)
For the semantic connection between NECK and SHOULDER, see Chapter 4.3.
The Karen forms, which all look something like ko, could either be from 486 *l‑kok THROAT/NECK or from 3361 *goŋ NECK/THROAT. But note also their similarity to the Karen words for shoulder (tagged 3346 *k(r)oŋ/k SHOULDER).
Note also the similarity between the Hani forms for 'neck' kʰɔ³¹ lɔ⁵⁵, kʰɔ³¹ laŋ⁵⁵, kʰɯ³¹ l̀quote lɯ⁵⁵ and the Karen (B) form kʰo³¹ lø³¹ tʰi⁵⁵.
There is a widespread binome in LB consisting of etyma 479 *liŋ + 255 *tsiŋ.
What is Bradley' s basis in Proto-Loloish for setting up a Common Lahu form luiː for 'neck' ? (Record 11548) This seems doubtful.
There is a possible semantic connection between THROAT/NECK and HEART; the first syllable of Limbu niŋ‑mèmdash a 'throat' and Bisu nɨŋ‑tshɨ 'neck' is 'heart' .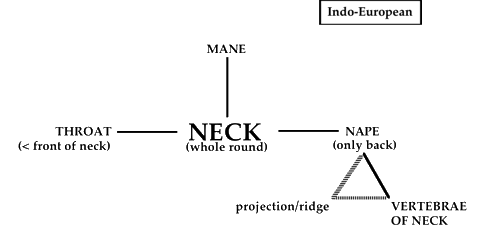 Etyma in this chapter
| tag | num_recs | chaptertitle | chapter | sequence | protoform | protogloss | grpid | plg | grpno | notes | num_notes | num_comparanda | status | public | username |
| --- | --- | --- | --- | --- | --- | --- | --- | --- | --- | --- | --- | --- | --- | --- | --- |
| 479 | 334 | Neck | 1.4.2 | 1.0 | g-liŋ ⪤ m-liŋ | NECK | 2 | PTB | 0.1 | | 1 | 0 | KEEP | 1 | stedt |
| 255 | 35 | Neck | 1.4.2 | 2.0 | tsiŋ | NECK | 2 | PTB | 0.1 | | 0 | 0 | KEEP | 1 | stedt |
| 359 | 137 | Neck | 1.4.2 | 3.0 | tuk ⪤ twak | HEAD / SKULL / NECK | 2 | PTB | 0.1 | STC#392 | 2 | 0 | KEEP | 1 | stedt |
| 3361 | 127 | Neck | 1.4.2 | 4.0 | goŋ | NECK / THROAT | 2 | PTB | 0.1 | DL 253; ↭ *s-ŋoŋ 483 | 2 | 0 | KEEP | 1 | stedt |
| 481 | 67 | Neck | 1.4.2 | 5.0 | s-ke-k ⪤ m-ke-k | NECK | 2 | PTB | 0.1 | STC#251; m- in Gyarong | 2 | 0 | KEEP | 1 | stedt |
| 483 | 82 | Neck | 1.4.2 | 6.0 | s-ŋoŋ ⪤ s-ŋok | NECK / WAIST | 2 | PTB | 0.1 | | 1 | 0 | KEEP | 1 | stedt |
| 484 | 53 | Neck | 1.4.2 | 7.1 | bran ⪤ pwat | NECK / THROAT | 2 | PTB | 0.1 | GSR 491 | 1 | 0 | KEEP | 1 | stedt |
| 3367 | 29 | Neck | 1.4.2 | 8.0 | k-woŋ | NECK | 0 | | | ("NAG") | 1 | 0 | KEEP | 1 | stedt |
| 389 | 45 | Neck | 1.4.2 | 9.0 | s-gwa-n ⪤ r-gwa-n | NECK / NAPE | 2 | PTB | 0.1 | set up by ZJH | 2 | 0 | KEEP | 1 | stedt |
| 393 | 6 | Neck | 1.4.2 | 10.0 | tsyak | NAPE OF NECK | 2 | PTB | 0.1 | set up by ZJH | 1 | 0 | KEEP | 1 | stedt |
| 3404 | 18 | Neck | 1.4.2 | 11.0 | p(w)aŋ | NECK | 2 | PTB | 0.1 | | 1 | 0 | KEEP | 1 | stedt |
| 485 | 11 | Neck | 1.4.2 | 13.0 | g-n(y)a | NECK | 2 | PTB | 0.1 | | 1 | 0 | KEEP | 1 | stedt |
| 3407 | 3 | Neck | 1.4.2 | 14.0 | dor | NECK | 2 | PTB | 0.1 | | 1 | 0 | KEEP | 1 | stedt |
| 3364 | 4 | Neck | 1.4.2 | 16.0 | syur | NECK | 29 | PKir | 2.3 | Sunwar, Bahing | 1 | 0 | KEEP | 1 | stedt |
| 1277 | 7 | Neck | 1.4.2 | 17.0 | grok | RAVINE / VALLEY | 2 | PTB | 0.1 | cf. HPTB p. 378; var.STC#122, Jg krūŋ, khəróʔ | 0 | 0 | | 1 | stedt |
| 5651 | 28 | Neck | 1.4.2 | 0.0 | ku | NECK / THROAT | 2 | PTB | 0.1 | JAM | 1 | 0 | KEEP | 1 | stedt |
| 5650 | 12 | Neck | 1.4.2 | 0.0 | rim | NECK | 2 | PTB | 0.1 | JAM | 0 | 0 | KEEP | 1 | libertylidz |