Introduction
STEDT is the Sino-Tibetan Etymological Dictionary and Thesaurus, a linguistics research project at the University of California at Berkeley. It is directed by Professor James A. MATISOFF of Berkeley's Linguistics Department, and administered through the International and Area Studies division. Our goal is the publication of an etymological dictionary of Proto-Sino-Tibetan (PST), the ancestor language of the large Sino-Tibetan language family. This family includes Chinese, Tibetan, Burmese, and over 200 other languages spoken in South and Southeast Asia. The project was founded in 1987 and has enjoyed the support of the National Science Foundation and the National Endowment for the Humanities.
The first major dissemination of STEDT research came in the form of A Handbook of Proto-Tibeto-Burman: System and Philosophy of Sino-Tibetan Reconstruction, an introduction to the reconstructed phonology and lexicon of Proto-Tibeto-Burman and the philosophical underpinnings on which the STEDT project rests. This volume (HPTB) included over 1500 reconstructed Proto-Tibeto-Burman roots. In the next phase of the project, additional STEDT etymologies and data will be published systematically, by semantic field, in electronic form.
Announcements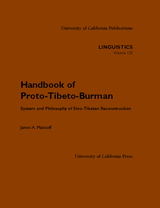 Support
This material is based upon work supported by the National Science Foundation and the National Endowment for the Humanities under the following grants:
National Science Foundation, Division of Behavioral & Cognitive Sciences, Linguistics, Grant Nos. BNS-86-17726, BNS-90-11918, DBS-92-09481, FD-95-11034, SBR-9808952, BCS-9904950, BCS-0345929, BCS-0712570.
National Endowment for the Humanities, Division of Research Programs, Grant Nos. RT-20789-87, RT-21203-90, RT-21420-92; Preservation & Access Reference Materials, Grant Nos. PA-22843-96, PA-23353-99, PA-24168-02, PA-50709-04, PM-50072-07.
Any opinions, findings, and conclusions or recommendations expressed in this material are those of the author(s) and do not necessarily reflect the views of the National Science Foundation or the National Endowment for the Humanities.
Contact
STEDT
University of California
Department of Linguistics
1203 Dwinelle Hall
Berkeley, CA 94720-2650
Send comments to stedt@socrates.berkeley.edu .
Credits
This page was designed by David Mortensen, based on content produced by John B. Lowe, Ju Namkung, and Richard Cook. The STEDT elephant logo was designed by Nadja R. Matisoff.
History
If you miss the old STEDT splash page, you can view it here.